The bored, cartoonish monkeys with exaggerated features have been causing a furore since their April 2021 issue. Some find the artwork amazing, while others find it childish. Regardless, the cheapest Bored Ape you can buy today costs hundreds of thousands of dollars.
Bored Apes Yacht Club (BAYC) is a collection of 10,000 unique non-fungible tokens (NFTs) - digital collectables that live on the Ethereum blockchain. There are over 170 unique characteristics with varying degrees of rarity that these monkeys can exhibit. The creators have combined these different traits to create a limited series of unique NFTs. No 2 BAYC are the same - each has a unique set of characteristics. But what sets a Bored Ape apart from other NFTs like Crypto Punks?
With BAYC, NFTs get features
Each NFT has a unique identifying address stored in the holder's wallet. This address allows users to prove that they are the sole owners of a particular NFT. They can stand for anything digital, or to digitally verify ownership of real-world items. Common use cases for NFTs today are digital collectables and game items for video games.
A BAYC NFT also acts as a membership card for the virtual "Yacht Club," granting access to exclusive benefits. It started with "The Bathroom" to which the owner wallet token granted access to a communal graffiti board. This was followed by various areas and perks unlocked by the community by activating the roadmap.
Extraordinary to the Bored Ape Yacht Club is the community that has formed around the collection. The Yacht Club has organized meetings in New York, the UK, and even Hong Kong. Recently, as part of an NFT event in New York City, a celebration weekend was held for all BAYC owners. The real yacht party featured performances by well-known artists such as Chris Rock, Aziz Ansari and The Strokes.
Rights of use of NFTs
Over the summer, Larva Labs, the studio behind arguably the most famous NFTs "Crypto Punks," signed a deal with the United Talent Agency to use Punks in film, television, video games, publishing and licensing. This is because, unlike most new NFT projects, punk owners did not acquire intellectual property rights to their NFTs. Those rights remained with Larva Labs. The Bored Ape Yacht Club thus stood out from the Crypto Punks at the time of launch. The BAYC NFT license allows owners to exercise full rights to market and license their monkeys. This transfer of rights is now standard for generative NFT projects but was not common at the time.
That is, owners were allowed to use their BAYC character for various projects to create new content and value. Some owners built a backstory around their monkey and used it to develop new identities. This enabled a large and independent ecosystem. Clothing lines, music, books, comics, coffee brands, wine labels, and many other types of BAYC merchandise have been created. Some owners, by collaborating with artists, have been able to license their Bored Ape character and earn an additional few thousand dollars in royalties.
Hollywood is also increasingly viewing the emerging sector as one ripe for representation. Guy Oseary, the founder of management firm Maverick, whose clients include Madonna and U2, is the proud owner of a BAYC and just signed a partnership with Yuga Labs - the studio behind Bored Apes. He sees opportunities in NFTs for multiple media platforms, including film, television, music, games and more. The individual originals strengthen the community of NFT owners by sharing their intellectual property (IP) rights to their purchased ape and constantly create new opportunities to add benefits and utility to the purchased artwork. There are a lot of exciting initiatives promised for the community that will be shared soon.
Other Yuga Labs projects
Following the resounding success of BAYC, Yuga Labs has developed another NFT collection called Mutant Ape Yacht Club (MAYC). BAYC owners had exclusive access to MAYC before the general public. They were given a serum that they could use to create a new MAYC NFT. These could either gain the same traits as the bored monkey in their wallet or become an original Mutant Ape NFT.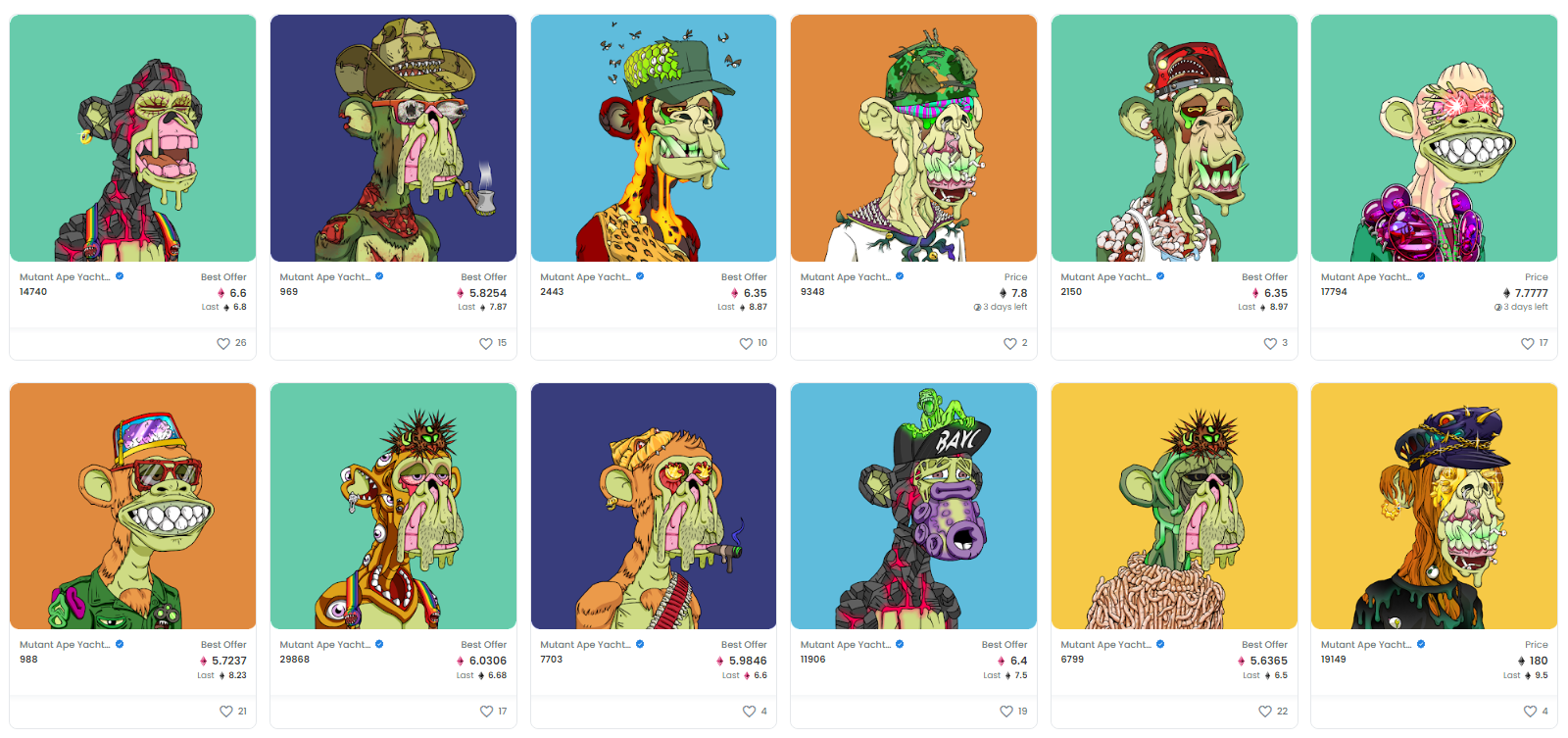 After the release to BAYC owners, the developers held a public sale where users could purchase a random MAYC NFT. A total of 20,000 mutants were released. The public sale price for MAYC in the process was 3 ETH, which was equivalent to about $11,000.
The artist Seneca
Her artwork can be seen everywhere - on billboards in Times Square, on a Rolling Stone Cover, and on profile pictures of thousands of monkey owners on Twitter (including Jimmy Fallon, Steph Curry, and Post Malone). Soon to be featured on an upcoming album release planned by Universal Music. It's far from the only "profile picture" project involving NFTs, but BAYC has made a cultural mark. Since April, more than $1 billion worth of apes has been traded - including sister projects Mutant Apes and Bored Ape Kennel Club.
"The fact that you can authenticate a digital asset is revolutionary. It's a complete game changer. NFTs will give digital art a seat at the table of the traditional art market." - Seneca, the lead artist behind BAYC
At ICONOCLAST, as part of Art Basel Miami, the dissidents and trailblazers pushing the boundaries in art, culture and technology were celebrated. To that end, Seneca, the lead artist behind BAYC, unveiled five NFTs on Saturday. Bored Ape Yacht Club was Seneca's first foray into the world of NFT, and the artist is excited about the possibilities of this emerging field. She has been frustrated with the traditional art market, which has treated digital art as second-rate compared to its physical counterpart.
A digital identity for brands
In September, Adidas also bought a Bored Ape for around 46 ETH ($156,000 USD) and announced a partnership with Coinbase. A short time later, it announced a presence in the metaverse via tweet. The company is partnering with prominent industry figures, including the founder of the Bored Ape Yacht Club, NFT comics Punks Comic of Pixel Vault, and crypto investor and NFT collector Gmoney.
Today we leap Into The Metaverse with @BoredApeYC, @gmoneyNFT & @punkscomic.

It's time to enter a world of limitless possibilities.https://t.co/LmgtrRn20c pic.twitter.com/40kU8tayrS

— adidas Originals (@adidasoriginals) December 2, 2021