The monthly fundamental and price developments of selected cryptocurrencies, including Bitcoin (BTC), Ethereum (ETH), Cardano (ADA), Solana (SOL) and Polygon (MATIC) in collaboration with Swiss digital asset specialist 21Shares AG.
Each month, the research team highlights the cryptocurrencies of the month that have increased or decreased in value by more than 15%. Using a data-driven approach, the key developments and events that led to the price movements are highlighted.
Bitcoin (BTC)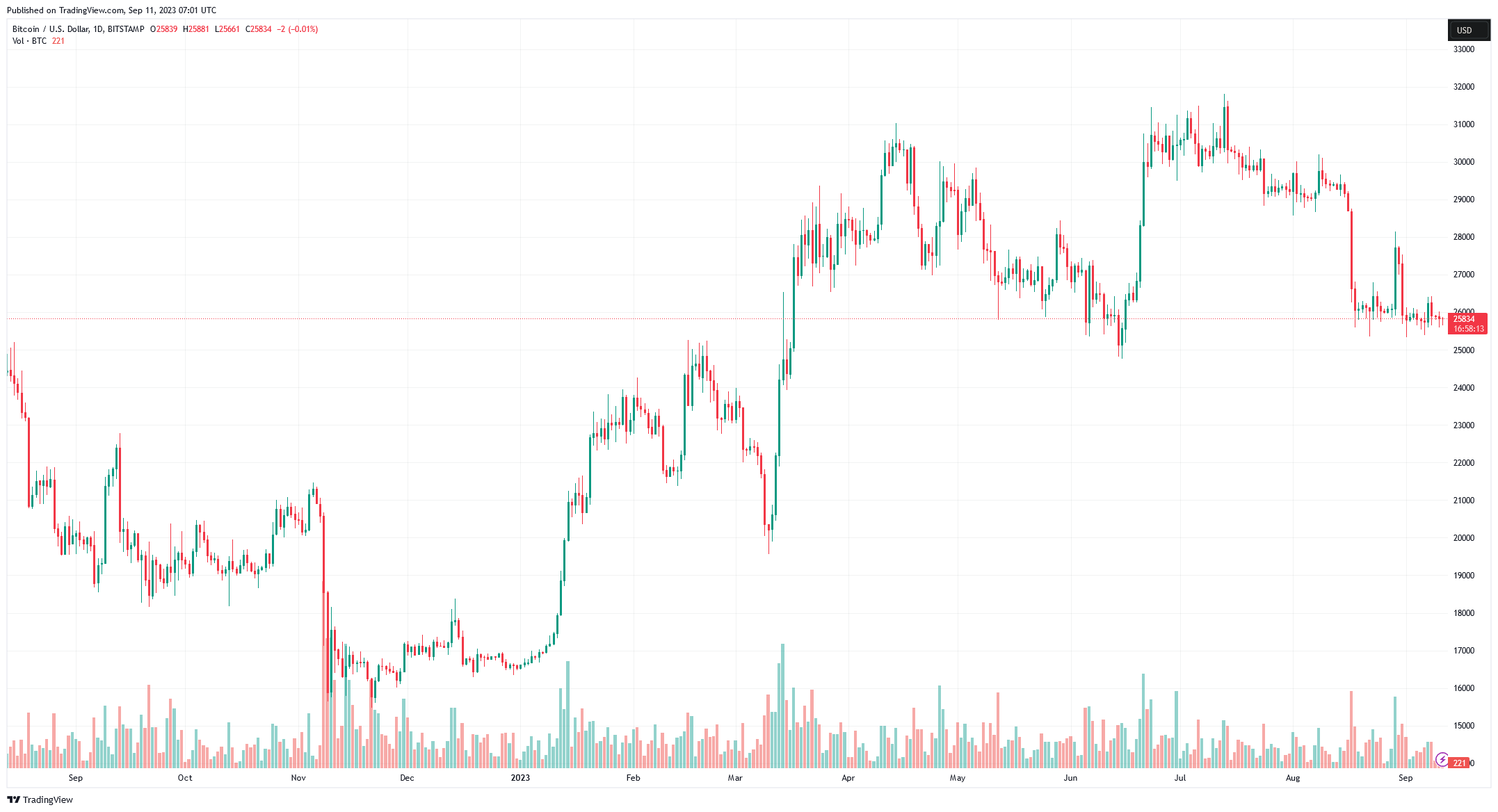 Bitcoin traded down 11.31% over the past month. On August 17, we saw ~$979 million of liquidations, of which ~$786 million were longs, as BTC dropped 7.50% in a single day. This event constituted the most significant long liquidations in more than a year (even higher than during the FTX collapse), indicating that many investors were positioned to the upside amidst last month's price decline. In this regard, BTC futures perpetual open interest across centralized exchanges dropped 33% from $10.02 billion on August 8 to $6.71 billion on August 31. On another note, BTC on exchanges reached a five-year low of 2.25 million, a figure not seen since March 2018.
Ethereum (ETH)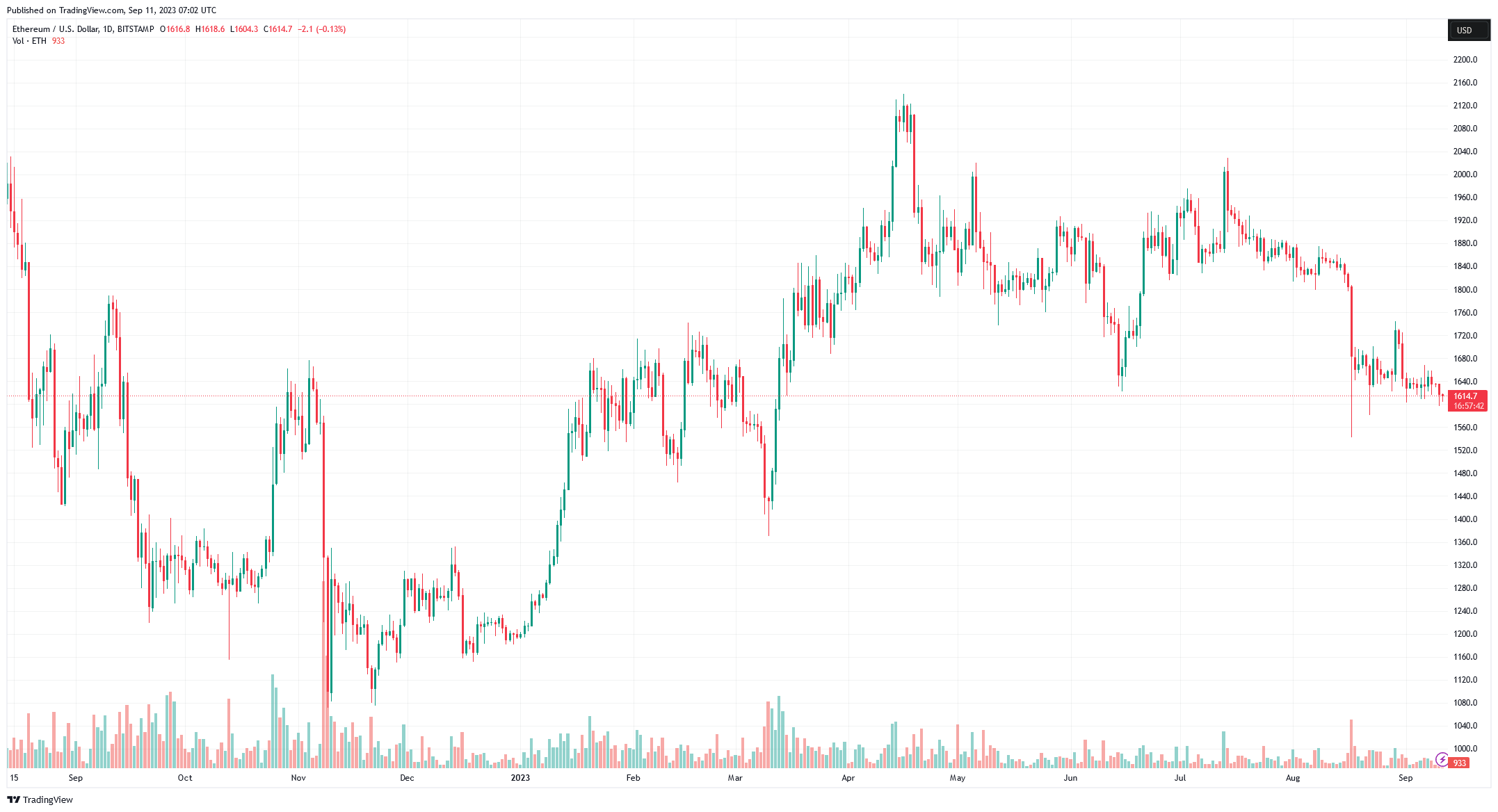 Ethereum traded down 11.42% over the past month. On August 7, fintech giant PayPal launched its own stablecoin (PayPal USD) on the Ethereum network. The move could drive a significant influx of new users to Ethereum, as PayPal had 435 million active accounts at the end of 2022, compared to ~1 million active users on Ethereum and L2s. Moreover, it is a massive step toward integrating crypto with traditional payment methods. On the fundamentals side, Coinbase's Base L2 network launched on August 9. Instead of launching a native token, users transacting on Base pay transaction fees in ETH, generating demand for the asset. Base's network has already amassed over $400 million in assets and 100k daily active users throughout the month.
Solana (SOL)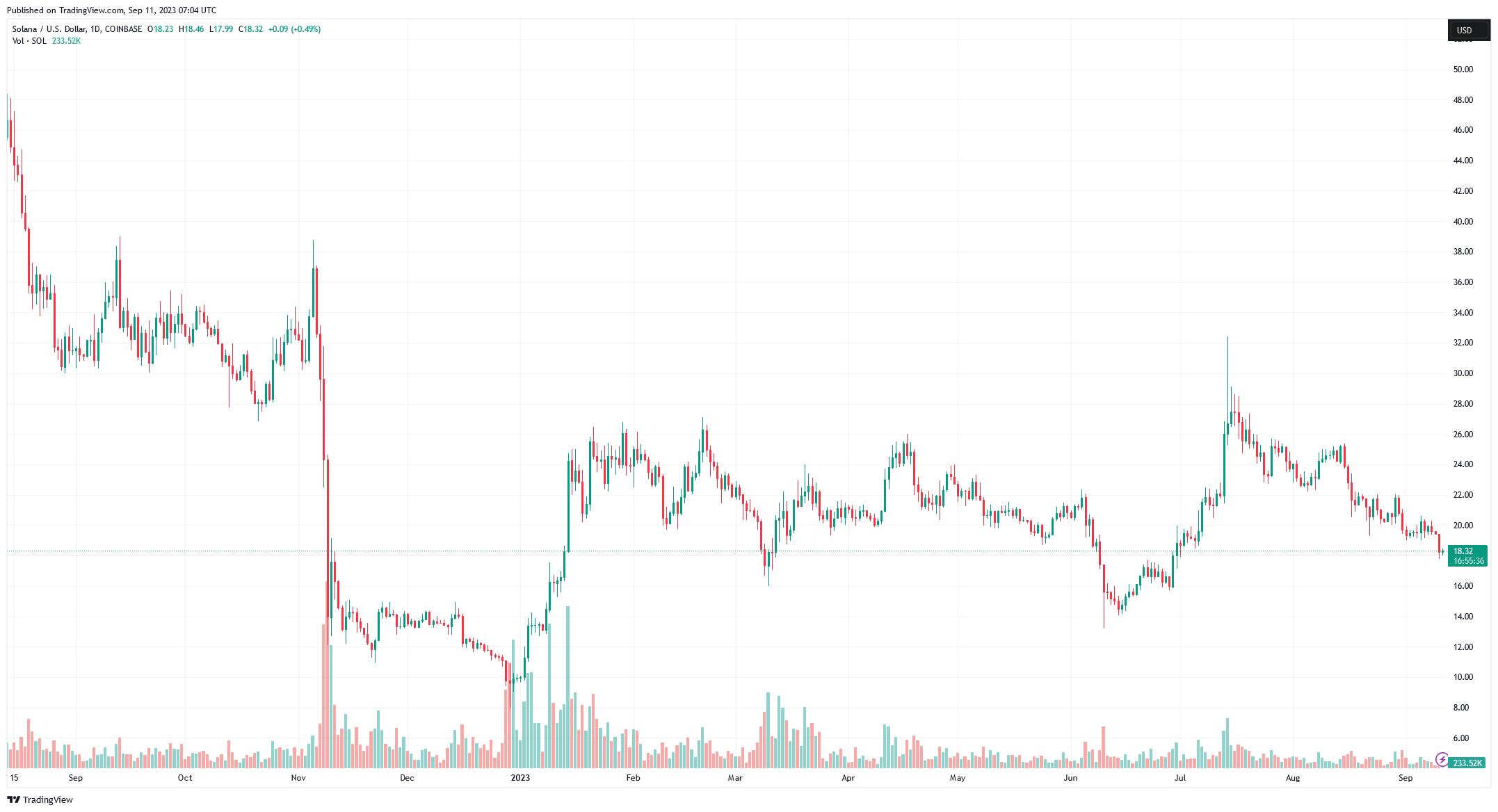 Solana (SOL) traded down 16.96% despite exciting ecosystem developments. Solana Pay, a decentralized payment protocol, has integrated its plug-in with e-commerce company Shopify, allowing millions of businesses on its platform to use Solana-based stablecoins like USDC for payment at checkout. In addition, Visa expanded its USDC cross-border settlement pilot to include the Solana blockchain to onboard more clients, citing "significant demand to leverage newer, high-performance blockchains that can send and receive stablecoins with higher speed and lower costs" than Ethereum. Compared to a ~3-minute average settlement time on Ethereum, Solana settles transactions in just ~400 milliseconds. Solana's integration with existing financial software players marks a crucial step toward the widespread adoption of stablecoins for merchant payments.
Cardano (ADA)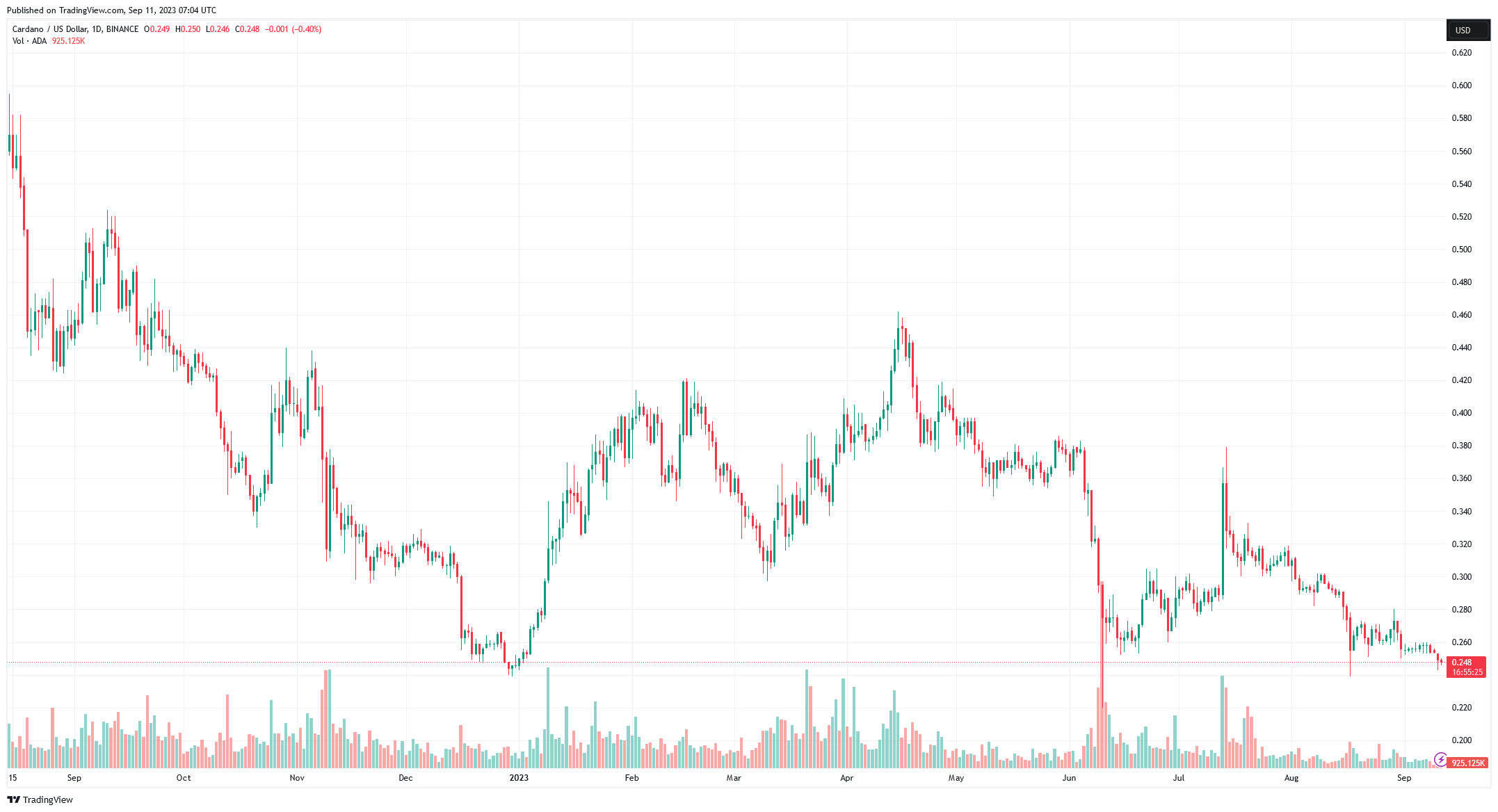 Cardano's native token ADA traded down 16.96% over the past month. The education team of IOHK, the company behind Cardano's architecture, conducted teach-in sessions on Haskell in Nairobi, Kenya, and the ITESO University in Guadalajara, Mexico. For context, Plutus - the language developed to write smart contracts on Cardano - is based on Haskell, commonly used in the banking and defense sectors. Education is essential to lower the barrier of entry of new builders to the Cardano ecosystem – Stack Overflow's 2023 Developer Survey suggests that only 2.09% of worldwide developers use Haskell.
Bitcoin Cash (BCH)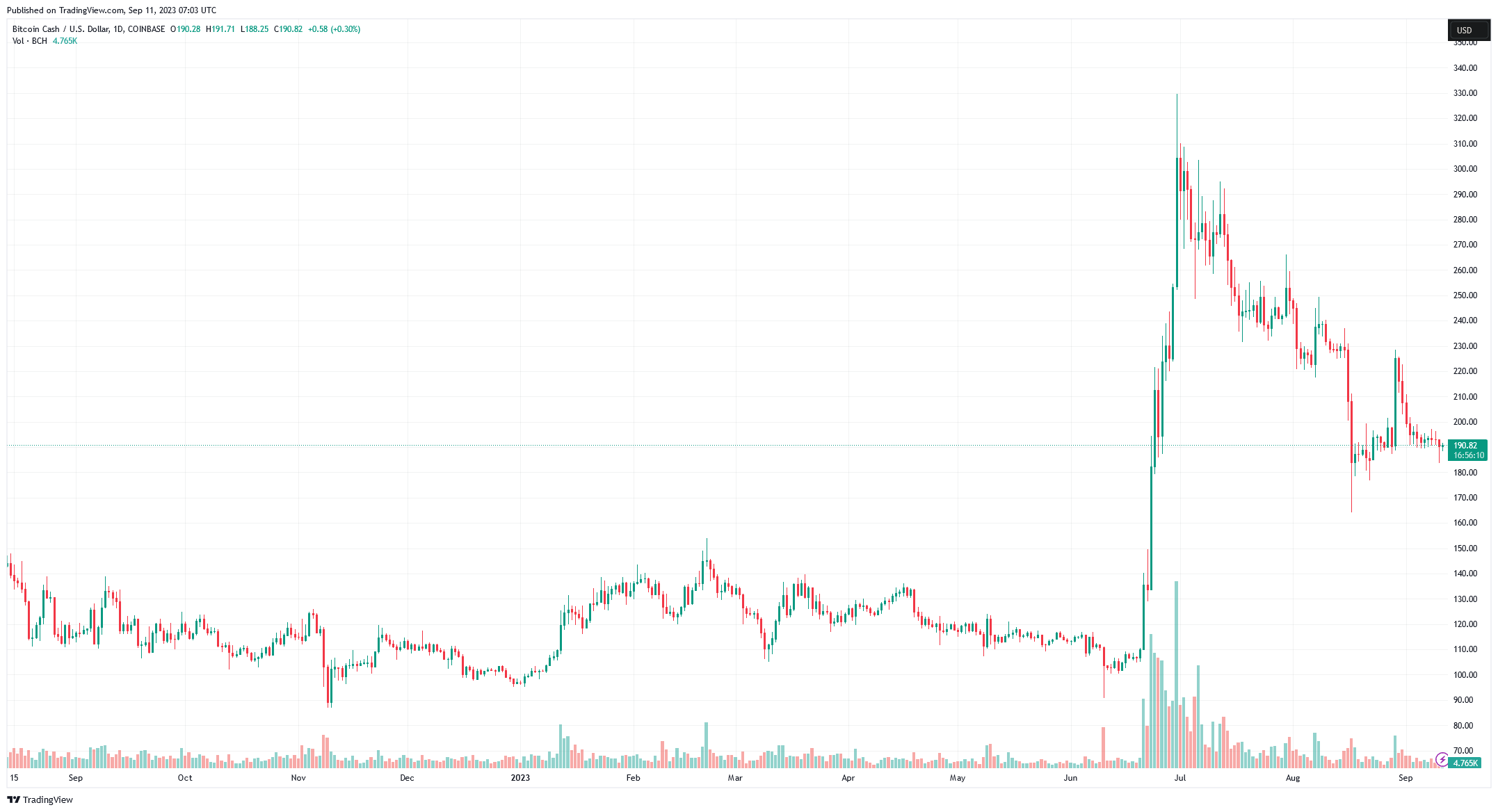 Bitcoin Cash (BCH) traded down 16.37% over the past month. On August 17, Tether announced they would discontinue support for USDT on Kusama, Omni Layer, and Bitcoin Cash SLP due to a "lack of significant traction over a significant period of time and no signs of recovery in usage indicators." The low usage meant maintaining support became inefficient for Tether and jeopardized security oversight. For context, Bitcoin Cash SLP refers to "Simple Ledger Protocol," a blockchain token system that allows users to create, issue, and transfer digital tokens leveraging the security of the Bitcoin Cash network.
Chainlink (LINK)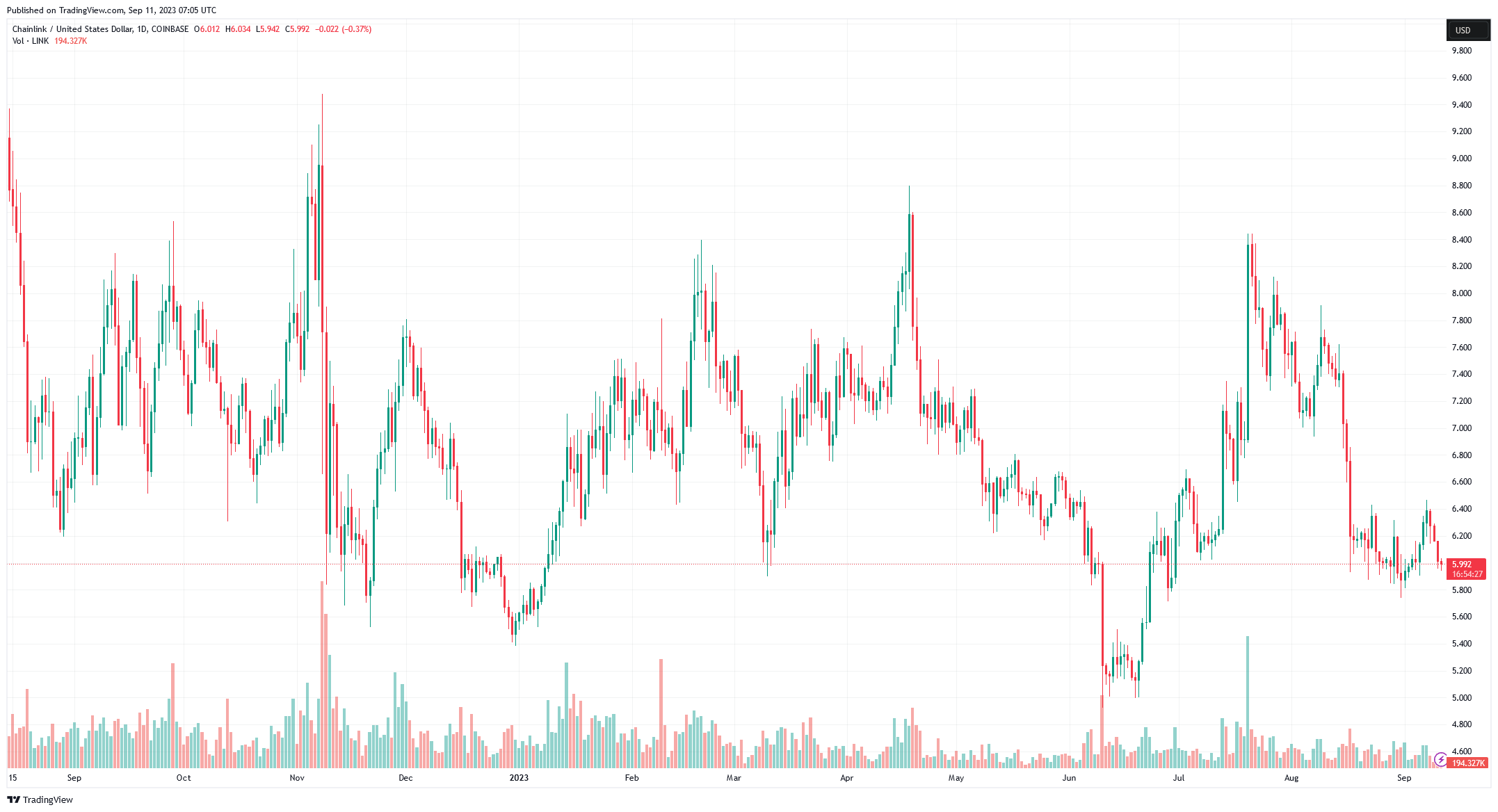 Chainlink (LINK) traded down 22.25% over the past month. In August, interbank messaging company Swift released a report on its year-long experiment using Chainlink's Cross-Chain Interoperability Protocol (CCIP). The results showed that by combining Swift's messaging standards with CCIP, financial institutions like BNP Paribas, BNY Mellon, and Citi successfully used their existing backend systems to interact with tokenized assets and transact across public and private blockchains. Increased adoption of CCIP would benefit Chainlink's profitability as the protocol charges a fee on top of the gas cost overhead for every transaction. Since launching in July 2023, Chainlink has earned over $69,000 from CCIP.
Polygon (MATIC)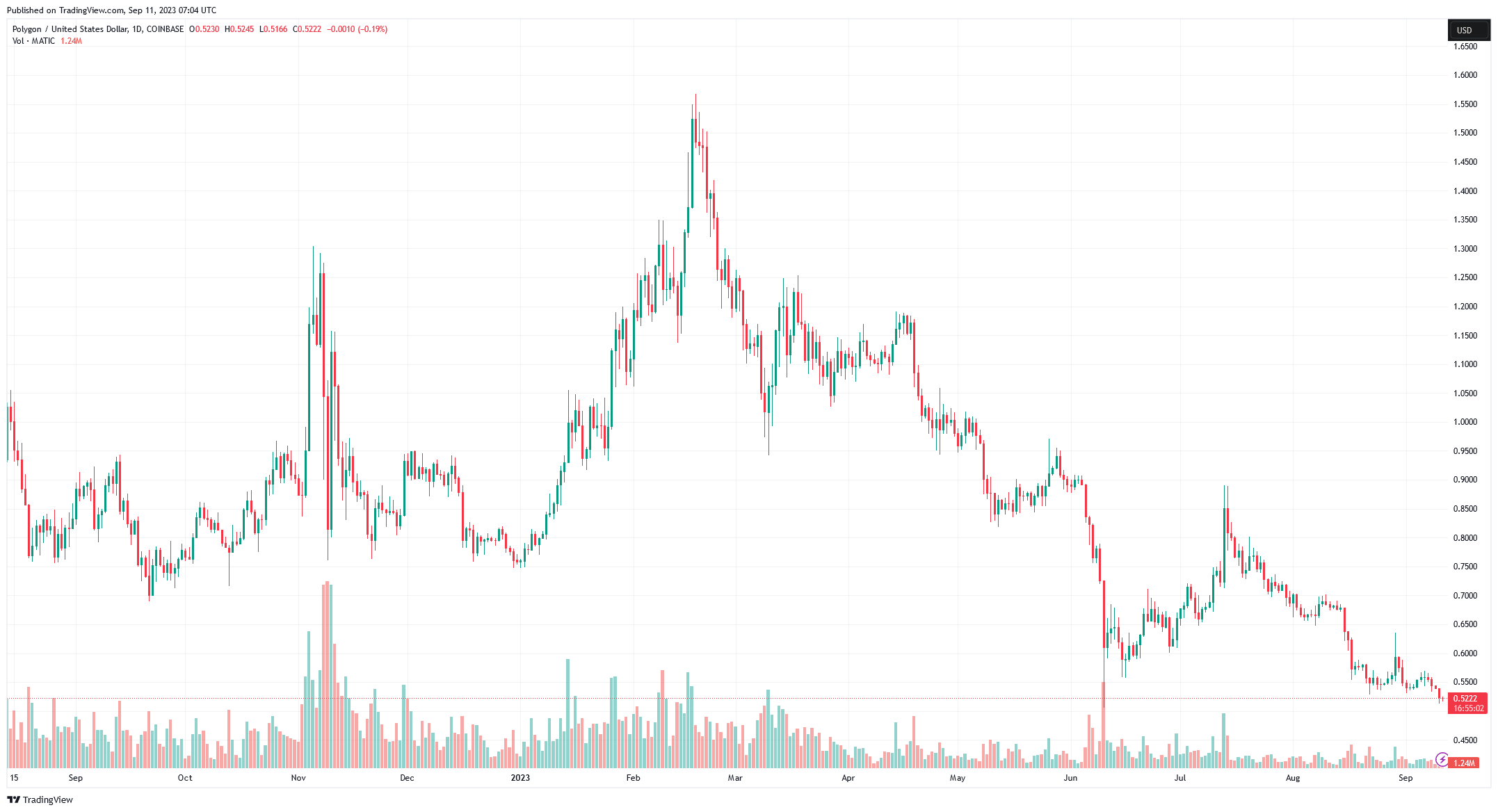 Polygon's native token MATIC traded down 20.24% over the past month despite the number of brands with a footprint on the network continuing to grow. Japanese electronic manufacturing company Casio announced the launch of Virtual G-Shock on Polygon. The project will issue 15,000 limited-edition "G-Shock Creator Pass NFTs," granting holders access to exclusive Casio community projects and channels. Furthermore, German airline Lufthansa launched Uptrip, a mobile application that rewards travelers with NFT cards living on the Polygon network for every flight they take. With the cards, users can form collections that offer loyalty rewards like business lounge vouchers and free miles.
Polkadot (DOT)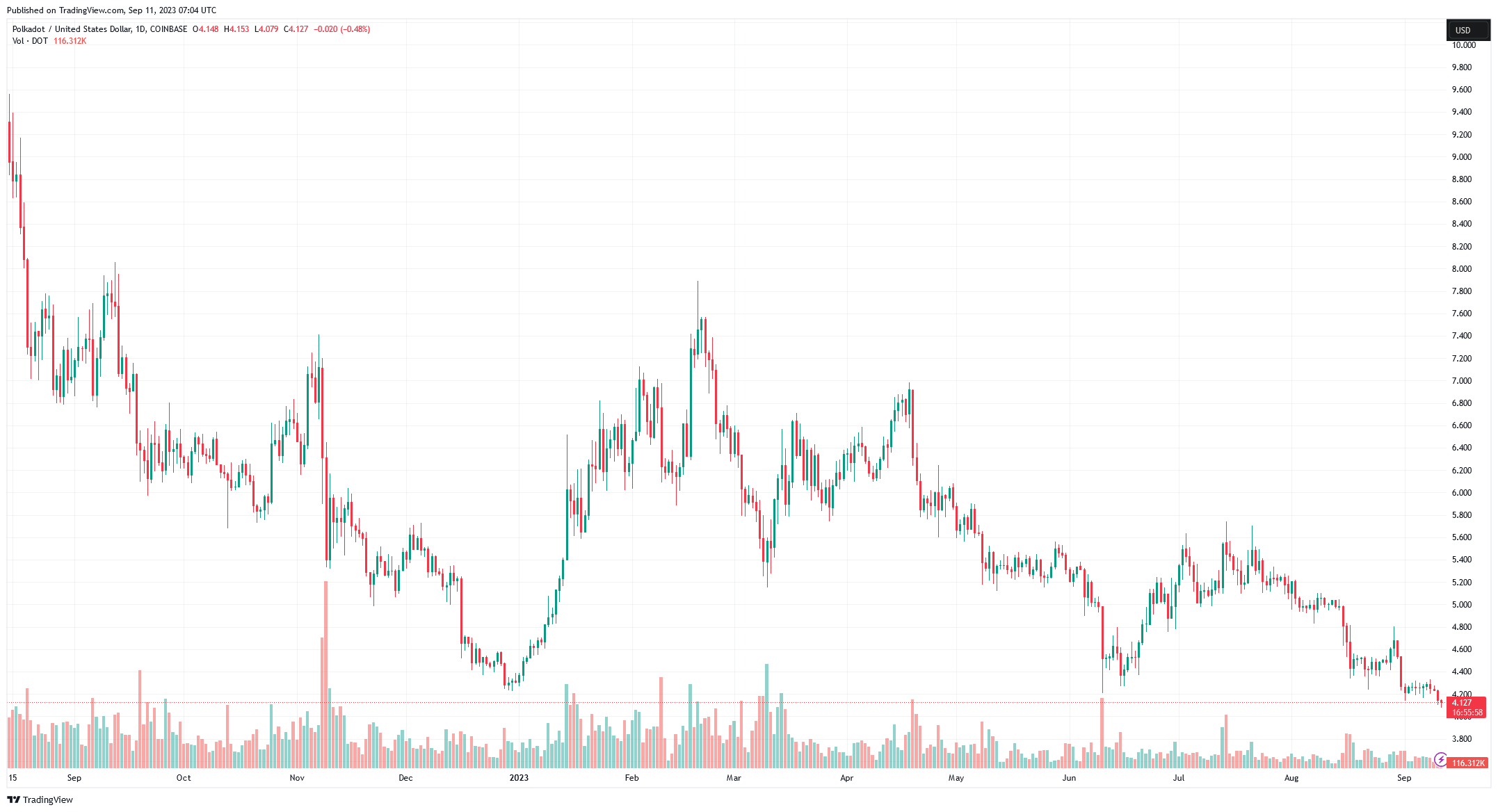 Polkadot's native token DOT decreased by 16.44% in August. During Decoded 2023, the ecosystem's flagship conference, Polkadot founder Gavin Wood announced the network's vision as a "global, multi-core supercomputer" on which many applications run. Under the current architecture, projects that want to launch a "parachain" (i.e., app-specific blockchain) on Polkadot need to lock up a significant amount of DOT, which token holders loan to lease their slot for two years. The new direction presented by Wood, which people are dubbing "Polkadot 2.0," would evolve Polkadot away from its current reliance on parachain slots to offer more flexible ways of launching applications on the network.
Avalanche (AVAX)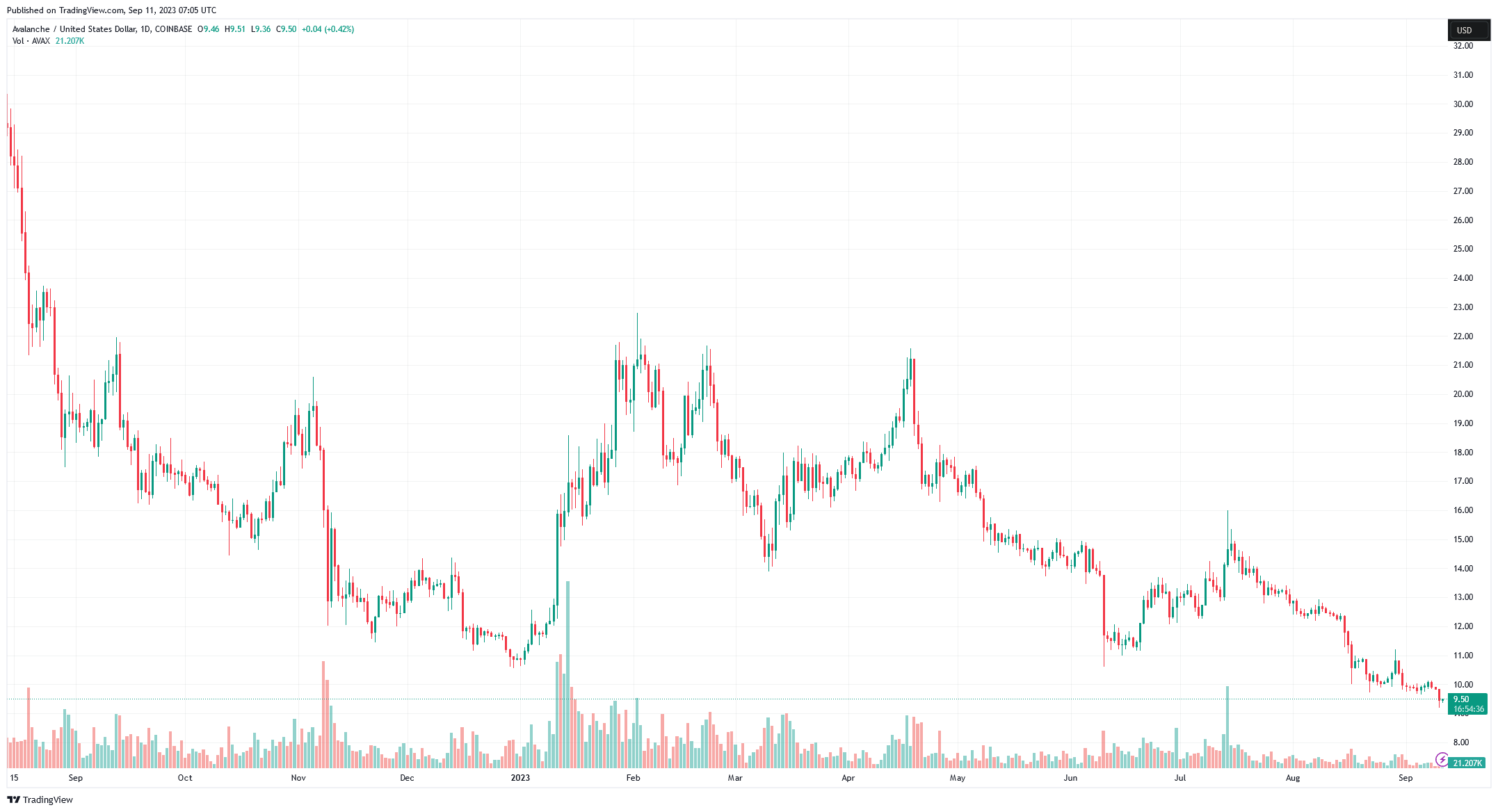 Avalanche's native token AVAX traded down 22.21% over the past month. On August 8, Circle launched its wallet-as-a-service platform for developers on Avalanche, Ethereum, and Polygon. The service allows developers to seamlessly embed wallets into their interface, with user-friendly features such as a PIN and social account recovery instead of lengthy private keys and mnemonic phrases. Regarding ecosystem developments, the Avalanche Foundation granted $3 million to Dexalot, a central limit order book (CLOB) Subnet, as part of Avalanche Multiverse, an up to $290 million incentive program to accelerate the growth of Avalanche Subnets.