Bitcoin is a decentralized network for the direct transfer of value (peer-to-peer). The concept was designed in 2008 by Satoshi Nakamoto, a pseudonym. It is still not clear who is behind the pseudonym.
The Bitcoin white paper, which was circulated in software developer circles in October 2008, contained a description of the implementation of a digital currency based on blockchain technology. It described a payment system in which its participants could transfer value on an equal footing and directly (peer to peer), without the help of an intermediary. The technological basis was a complex combination of several already developed components, which were necessary for the creation of a payment system.
By merging the two, a previously fundamental IT problem was solved, which previously prevented a software-based payment system (see: double spending). Through a cryptographic puzzle called Proof-of-Work (PoW), it was henceforth possible to check and process payments without a central instance. Mining (PoW) creates new tokens, up to a maximum number of 21 million. All transactions are kept on independent computers in a distributed public ledger.
As the oldest and weightiest cryptocurrency in terms of market capitalization, Bitcoin today represents
represents a censorship-resistant, decentralized peer-to-peer payment processing network with a mathematically limited supply.
Currency and application network
Since September 2021, the first country has been using Bitcoin as legal tender. In doing so, El Salvador not only uses Bitcoin as a currency, but in addition the underlying network as an electronic payment system. Another positive impact is the progressive digitalization and democratization of finance. More than 70% of the adult population in El Salvador does not have a bank account. The easy access to electronic payments through a special Bitcoin wallet, has surpassed the number of bank accounts within 30 days.
The cryptocurrency is gaining popularity in other developing countries. Despite strict regulations and, in some cases, outright bans, Bitcoin use is growing rapidly in countries like Nigeria. Many citizens are turning to Bitcoin in no small part due to restrictions on international trade and the loss of value of their local currency. For example, Nigeria, a country with an annual inflation rate of over 15%, was ranked 8th in the 2020 Crypto Adoption Index, with the country's young population in particular looking for alternatives.
Increasing acceptance
Data shows that residents of more and more countries around the world are taking the plunge into cryptocurrency. An increase in existing adoption can be seen around the world.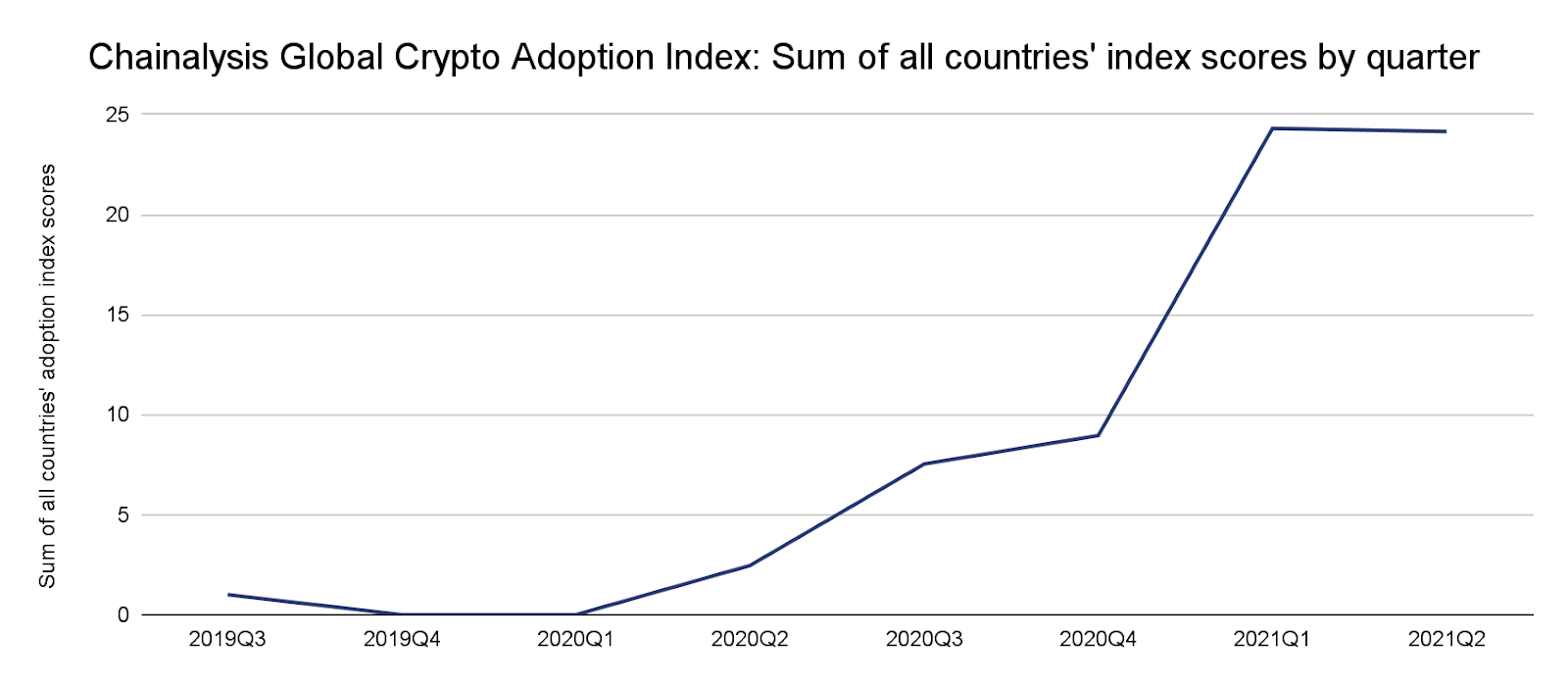 Increase in global acceptance / Source: ChainanalysisAt the end of the second quarter of 2020, after a period of low growth, overall global adoption was 2.5, based on summed country index values from Chainanalysis. At the end of the second quarter of 2021, this value was 24. Global adoption has increased by over 2300% since the third quarter of 2019 and by over 881% in the last year. The reasons for this increasing adoption globally vary. In emerging markets, many are turning to cryptocurrencies to preserve their savings in the face of currency devaluation, send and receive remittances, and conduct business transactions. However, adoption in North America, Western Europe and East Asia over the past year has largely been driven by institutional investment. In a year that has seen cryptocurrency prices rise dramatically, the respective reasons for the asset class's adoption in each region appear to have proven compelling.