The complete overview of the latest events on the crypto markets. Everything about the past week in the Bitcoin markets summarised in the market commentary by the CVJ.CH editorial team.
Market commentary
Bitcoin (BTC) has posted a green weekly close for five consecutive weeks. Such a pattern was last seen during the 2021 summer rally. The driving force behind the rally remains the anticipation of a spot-based Bitcoin ETF. However, some consolidation in the markets is likely to be beneficial. Bitcoin is currently at a strong historical resistance zone at $38,000 and has not experienced a significant correction since August.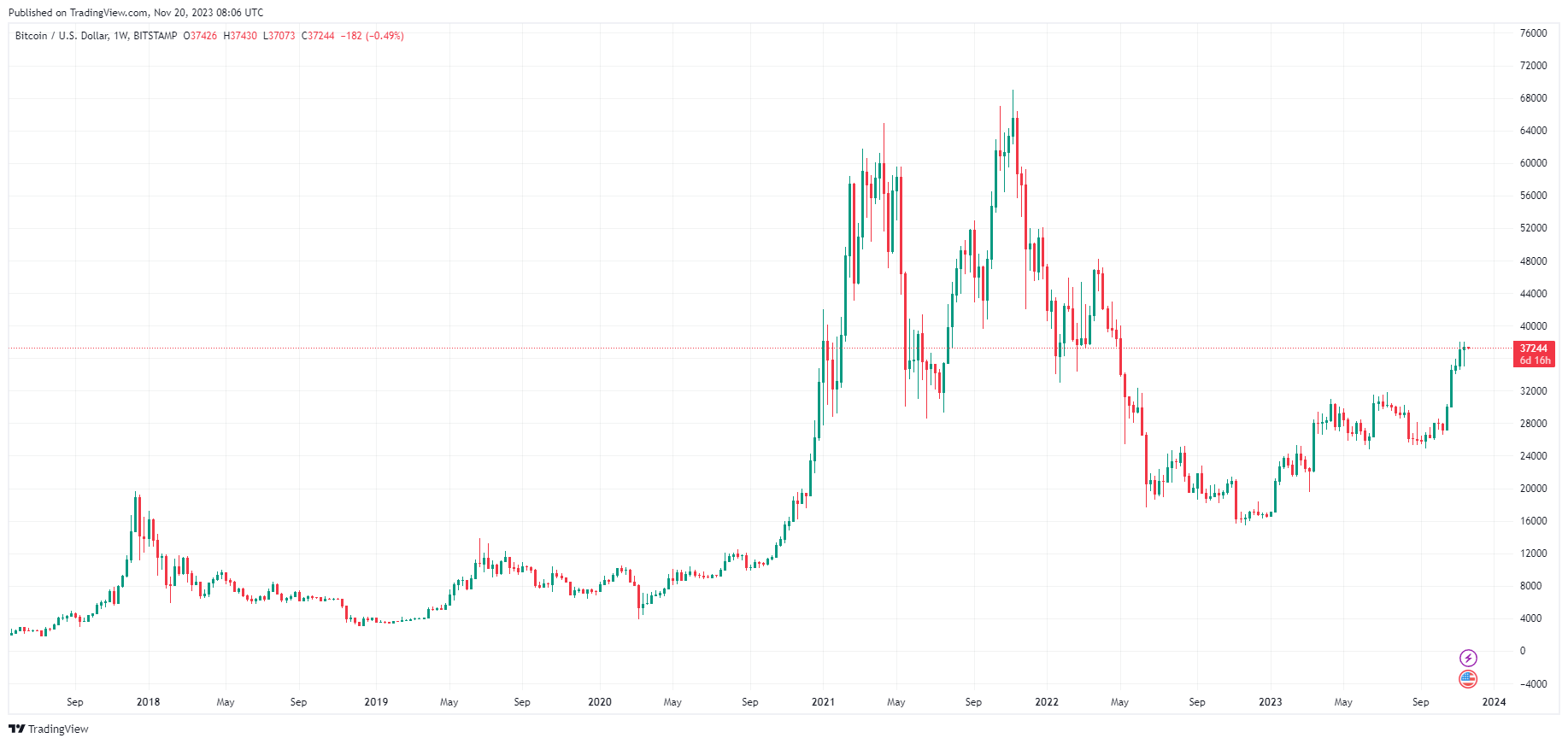 The outlook for the second largest cryptocurrency by market capitalisation, Ether (ETH), remains somewhat gloomy. Since the long-awaited transition to proof of stake ("The Merge") in September 2022, Ether has consistently lost ground against bitcoin. The ratio between the two assets (ETH/BTC) recently hit an annual low of 0.051. The price is now stabilising in this range.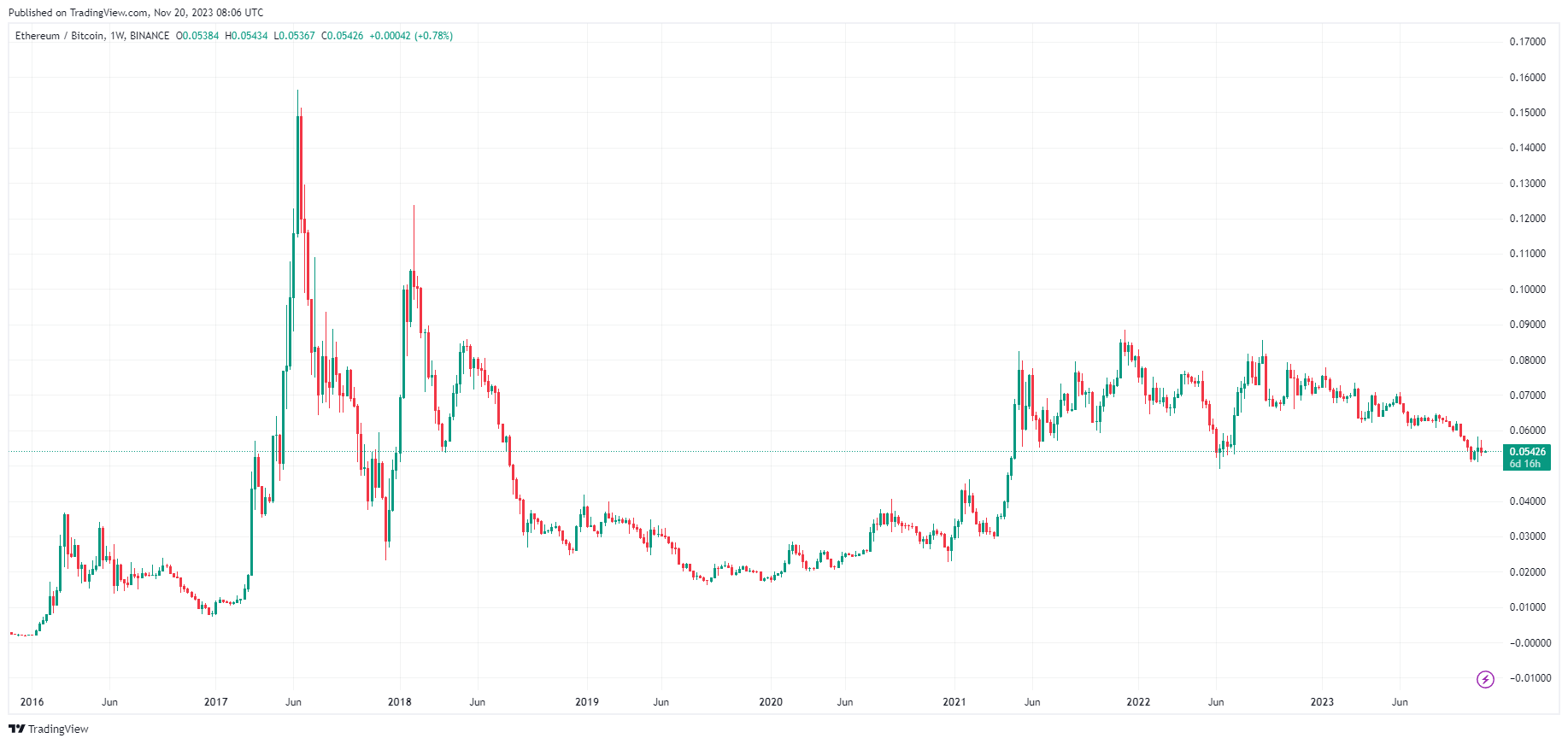 The weak price reaction to BlackRock's filing for an Ether ETF a week and a half ago was notable. On Friday, Fidelity, the world's third largest asset manager, followed with its own application. While the price of Bitcoin reacted immediately to the announcement in June, Ether has been relatively sluggish. The market seems to be pricing in a lower probability of a quick approval for the Ether product.
Subscribe to our newsletter
The best articles of the week, directly delivered into your mailbox.
Solana: the market's favourite
One of the best performing alternative crypto assets ("Altcoins") in recent months has been Solana (SOL). Since mid-October, the native cryptocurrency of the smart contract network has surged +175%. Solana stands out as an Ethereum competitor, mainly due to its very fast transaction times and low fees. By the end of 2024, developers aim to reach several hundred thousand transactions per second (TPS).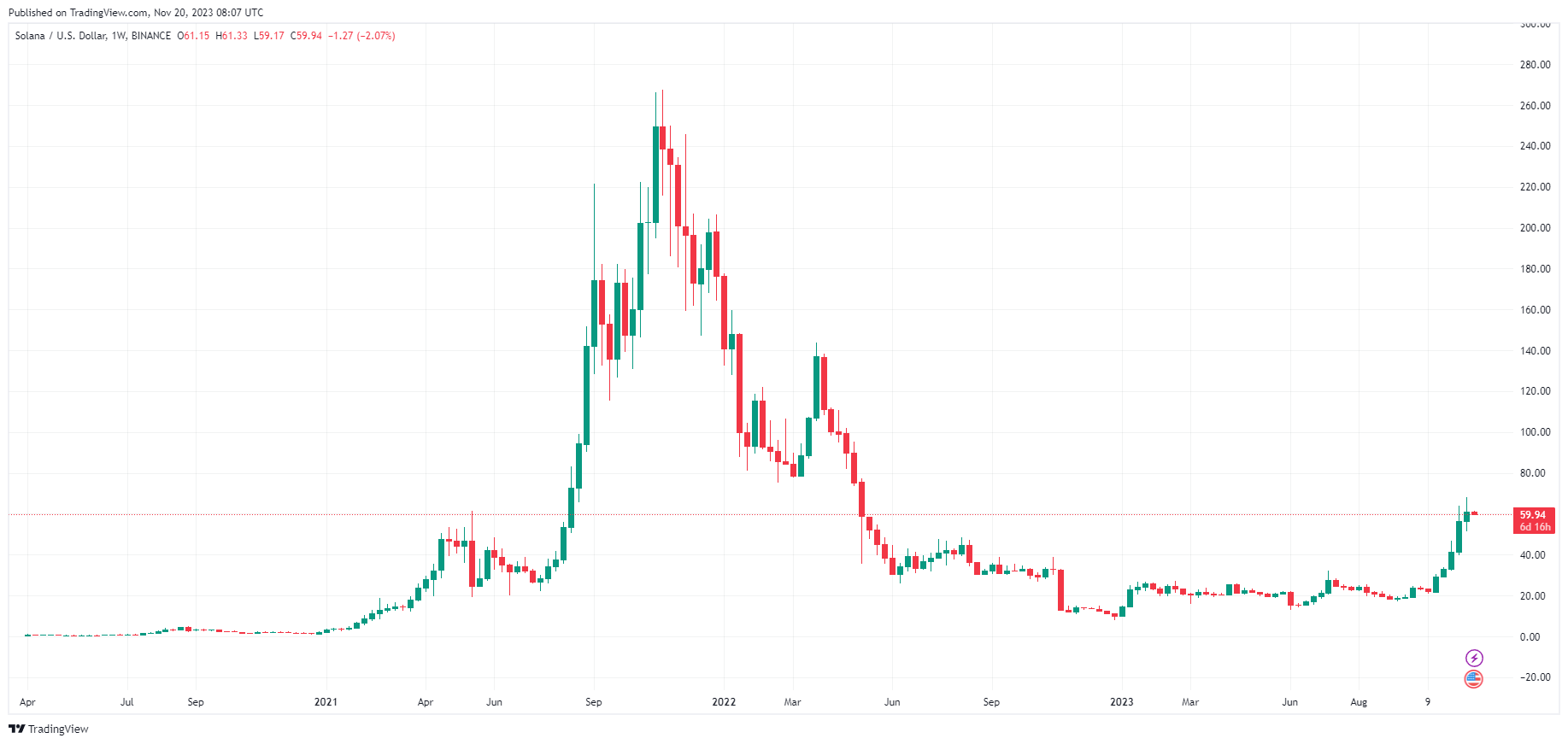 With this favourable environment for applications, a robust DeFi (decentralised finance) and NFT (non-fungible token) ecosystem has developed in recent years. The involvement of convicted FTX founder Sam Bankman-Fried put significant pressure on the price during the exchange's collapse. Solana has now recovered from this price loss and reached a new annual high.
Smart contract sector profits from Solana rally
The significant rise in the price of the Layer-1 network is also benefiting other cryptocurrencies in the same sector. Last week, the two smart contract blockchains Avalanche (AVAX) (+37.67%) and Cardano (ADA) (+9.05%) were the weekly winners among the top 20, alongside Solana. Near Protocol (NEAR), a slightly smaller competitor in terms of market capitalisation, was also up by +35.03%. The moderate rise in Dogecoin (DOGE), +8.03%, suggests a general increase in risk appetite.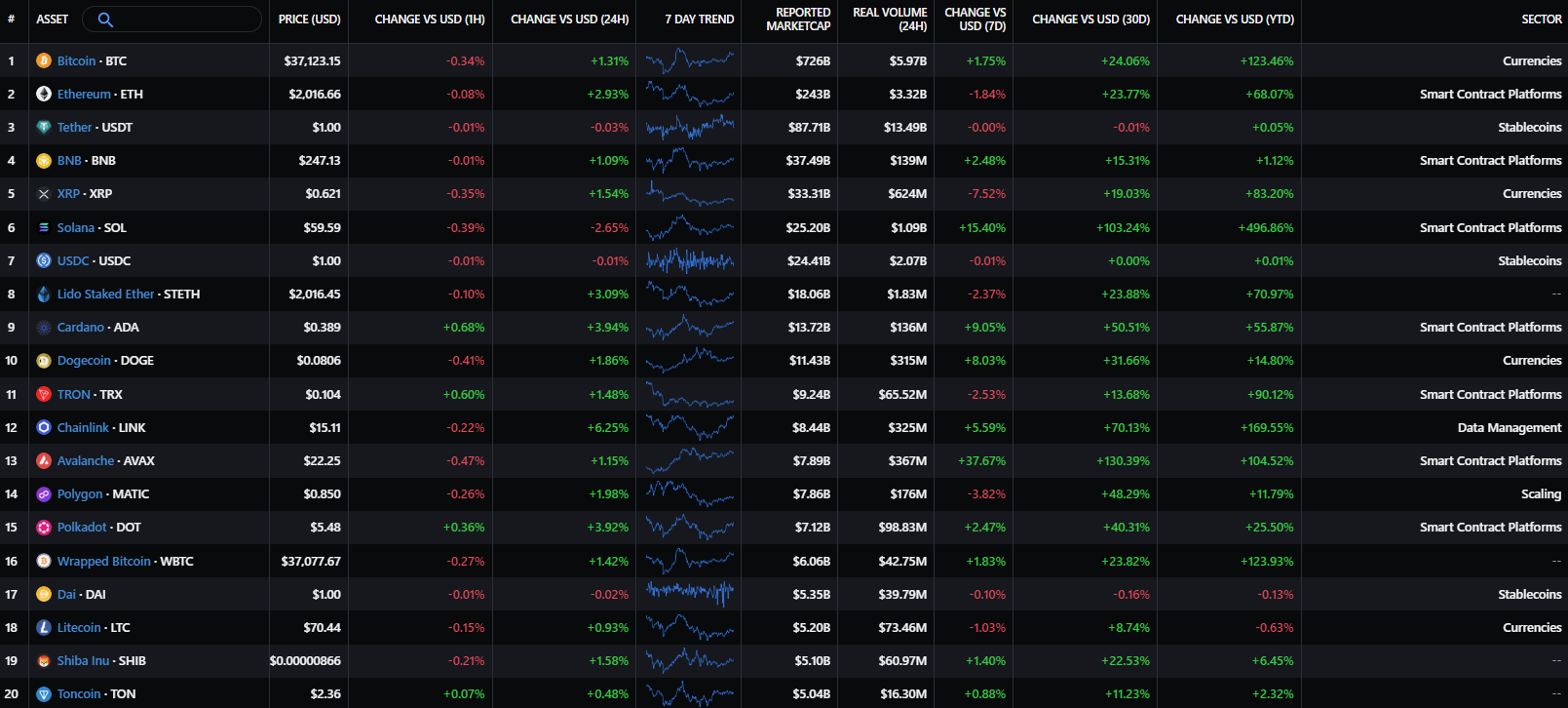 ---
---
Copyright © 2021 | Crypto Broker AG | All rights reserved.
All intellectual property, proprietary and other rights and interests in this publication and the subject matter hereof are owned by Crypto Broker AG including, without limitation, all registered design, copyright, trademark and service mark rights.

Disclaimer
This publication provided by Crypto Broker AG, a corporate entity registered under Swiss law, is published for information purposes only. This publication shall not constitute any investment  advice respectively does not constitute an offer, solicitation or recommendation to acquire or dispose of any investment or to engage in any other transaction. This publication is not intended for solicitation purposes but only for use as general information. All descriptions, examples and calculations contained in this publication are for illustrative purposes only. While reasonable care has been taken in the preparation of this publication to provide details that are accurate and not misleading at the time of publication, Crypto Broker AG (a) does not make any representations or warranties regarding the information contained herein, whether express or implied, including without limitation any implied warranty of merchantability or fitness for a particular purpose or any warranty with respect to the accuracy, correctness, quality, completeness or timeliness of such information, and (b) shall not be responsible or liable for any third party's use of any information contained herein under any circumstances, including, without limitation, in connection with actual trading or otherwise or for any errors or omissions contained in this publication.

Risk disclosure
Investments in virtual currencies are high-risk investments with the risk of total loss of the investment and you should not invest in virtual currencies unless you understand and can bear the risks involved with such investments. No information provided in this publication shall constitute investment advice. Crypto Broker AG excludes its liability for any losses arising from the use of, or reliance on, information provided in this publication.