Cardano is one of the largest smart contract platforms by market capitalization and has been navigating the crypto market for seven years. Frederik Greegard, CEO of the Cardano Foundation, provides an overview of the current state of the ecosystem as well as future endeavors in a conversation with CVJ.CH.
The Cardano Foundation is an independent and non-profit organization based in Switzerland - the Crypto Valley. As the legal administrator of the Cardano brand, Gregaard sees it as his mission to advance the decentralized economy. To do so, the Cardano Foundation works with regulators, policymakers, businesses and the broader crypto community. Its primary focus is solving real-world problems.
CVJ.CH: In your opinion, what are the most important use cases for blockchain technology?
Frederik Gregaard: Utilisation of blockchain technology has the power to radically disrupt and transform our traditional systems. Any case that de-risks adoption for financial or social systems is a crucial one. Blockchain technology offers the ability to increase trust and bolster transparency. Perhaps the best way to illustrate the important uses of blockchain are through two Cardano collaborations.
To bolster supply chain traceability and anti-counterfeit solutions, we collaborated with Baia's Wine and Scantrust, a platform providing digitalisation for brand protection, supply chain traceability, and consumer engagement. Unique and traceable Scantrust QR codes on Baia's wine bottles allow consumers to verify the wine's authenticity via metadata on the Cardano blockchain. Blockchain technology is more than a method for storing crypto transaction data - it transforms education, aid, healthcare, and more. Cardano installed a payment gateway for Save the Children, allowing the organisation to accept ADA donations directly, without intermediaries, thereby increasing transparency and efficiency.
These two examples offer insight into different uses of blockchain with one unifying factor: blockchain technology advanced and improved the way these organisations shared their product and charity, respectively, with the world. Blockchain technology can function as a means to register information in immutable records and make them available for verification; it can bridge the trust gap between institutions, organisations, businesses, and society. Cardano's blockchain technology is a secure, transparent, and accountable solution for augmenting global systems.
Where does Cardano stand compared to the current ecosystem of Layer 1 blockchains?
What makes Cardano a leader in the ecosystem of layer 1 blockchains is its groundbreaking, more sustainable Ouroboros PoS consensus protocol, developed using the Haskell programming language: a functional programming language that enables Cardano to pursue evidence-based development for unparalleled security and stability. Cardano is a blockchain committed to sustainable development and academic rigour.
Our technology is defined by research. We have changed what it means to create a global software platform through scientific methods. Importantly, we have the Cardano community supporting the network and building on it. Our technology is continuously improved upon through evidence-based development methods and is guided by a democratic voting system in which every member has a voice.
What have been the biggest challenges over the past few years?
The rapid evolution and activity in the sector has left regulators and policymakers playing catchup, which presents a significant challenge to ensure we create a regulatory environment that allows for innovation while also ensuring safety, security and transparency for all. That is why we are so keen to engage with policymakers and other stakeholders to find the best way forward so that we can find solutions to significant societal challenges.
Do you have any thoughts on the emergence of DeFi, NFTs, and crypto Gaming?
Decentralised Finance (DeFi) is one of the core tenets of the Cardano Foundation: in shaping legislation and commercial standards, we are engaging in and driving global conversations around decentralised infrastructure. We are also committed to establishing a transparent and decentralised platform. Impartial and unbiased, it is our responsibility to ensure that robust governance, standards, and ethics exist and are upheld across every touchpoint. We firmly believe in decentralised economic empowerment and identity, working with regulators to develop blockchain legislation and commercial standards, and encouraging the Cardano community to leverage the Cardano protocol to solve real-life problems.
Regarding NFTs, over the past year Cardano has grown to become the third largest NFT market, with 5.3 million tokens on-chain and 1,017 projects in development, which are largely NFTs, community, social, and gaming oriented. The Cardano transaction model is built for scalability with the ability to buy and sell multiple assets in one transaction; providing low and steady transaction fees; and the assurance that no fees are collected if the transaction fails. At the Cardano Foundation, we always celebrate creativity and ingenuity; we are thrilled the community members are utilising our blockchain technology for NFTs.
Finally, on crypto gaming, we believe that this is a fun, innovative way to play. There are hundreds of exciting games that are built on our blockchain technology and we are excited to support crypto gaming within our community.
After years of preparation, Ethereum has successfully switched to Proof-of-Stake. What is your stance on the "Merge" and its implications for the blockchain ecosystem?
One of the Cardano Foundation's core missions is to enable, empower, and accelerate progress across the blockchain space. Blockchain and cryptocurrency technology development is not a zero-sum game; Cardano celebrates a multi-chain future and applauds Ethereum for moving toward a more sustainable, energy-efficient model.
Energy efficiency is positive on and off the blockchain. The "Merge", and those consequently inspired to utilise PoS, will save block producers huge amounts of time and computer power by not having to solve random puzzles which consume large amounts of energy and which create additional e-waste.
PoS consensus mechanisms have proven to be environmentally sustainable as well as secure choices. Cardano's PoS protocol, Ouroboros, goes beyond sustainability by guaranteeing our protocol's integrity, longevity, and performance, and that of the distributed networks that depend upon it.
Can you explain what the Vasil Hardfork is and how it impacts the Cardano blockchain?
Named after Bulgarian mathematician Vasil Dabov, a prominent Cardano ambassador who passed away recently, the Vasil hard fork will bring numerous upgrades to network capacity and Cardano's smart contract programming language, Plutus, which enables Cardano's decentralised application (dApp) development.
Vasil is the most significant network upgrade since the deployment of staking via Shelley. It will dramatically update network throughput, improve the Plutus smart contract language for dApp developers, reduce the latency of block transmission, and introduce "diffusion pipelining" to the Cardano blockchain. In sum, it will usher in an era of improved performance and capability enhancements.
Are there any major roadblocks for the industry?
In sum, regulators still lack a comprehensive understanding of proof-of-stake systems. That remains an issue that must be addressed. There are perhaps more requests for information now than a year ago. But, at the same time, legislation has already been passed without a full grasp of the specificities and differences of the multiple blockchain systems. Of course, the general narrative surrounding blockchain and blockchain's own environmental reputation add to the challenges. To rectify this we have to continue educational conversations, clarify doubts and misconceptions, and provide concrete positive examples of what blockchain can do. In sum, we must impart knowledge to policymakers and decision makers in government.
Subscribe to our newsletter
The best articles of the week, directly delivered into your mailbox.
Which upcoming developments are you most excited about?
There are a couple of exciting developments expected within the Cardano Ecosystem which will improve our scalability, interoperability, and further bolster support for our community. This work is key to achieving our larger goal of bringing our innovative blockchain technology to industries such as financial services, thereby delivering accountability, transparency, and sovereignty to all. Also, the Cardano Foundation is busy organising our 2022 Cardano Summit and I hope to see some of your readers joining us in Lausanne from the 19-20th October.
Finally, I am particularly excited about the growth of our open source development, being driven by Dirk Hohndel, the Cardano Foundation's Chief Open Source Officer. A truly open source approach offers so much when it comes to building transparent and accountable solutions and I am looking forward to seeing how our efforts develop and grow in the coming months.
---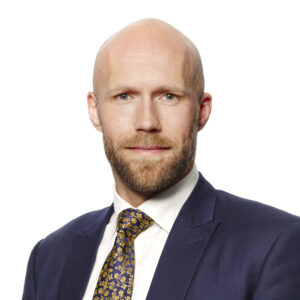 Frederik Gregaard is Chief Executive Officer at the Cardano Foundation.
Frederik has worked in the professional services and financial industries for 17 years in both Switzerland and throughout Scandinavia, focusing on capital markets, digital asset management, private banking, and trading infrastructure. Prior to joining the Cardano Foundation, Frederik held a number of management positions and mentored various startups. Since becoming CEO in 2020, Frederik has led the Cardano Foundation through a new phase of growth, with a vastly increased team, growing community and expanded media and stakeholder outreach.